Acacia Children's Centre – St Albans
Open 6.30am-6.pm
Monday to Friday
159 Taylors Road
St Albans, VIC 3021
Phone: (03) 9356 9731
email: accsta@acacia.org.au
Contact: Olivia Liron, Nadia Tancredi
Centre Structure
The centre is licensed for 68 full-time places with the Victorian Department of Education and Training (DET) and consists of four age groups:
0-24 months
24-36 months
3-4 years
4-5 years (funded kindergarten)
Upon enrolment, a child will be placed in a group according to his/ her age and will generally remain with that group for the entire calendar year. A child can be moved to another room if a vacancy exists in consultation with parents, and educators. The number of children that can be catered for is limited by the size of the room.
for more information please check the link below
St Albans Family handbook May final 2018
St Albans Philosophy
As part of our local community, Acacia's philosophy relates to our children, families and educators. Our aim is to provide a welcoming, high quality affordable early childhood education and care to all children from diverse linguistic and cultural background. A place where everyone that attends Acacia feel safe and secure and have the right to be included in all aspects of the program and decision making process.
We acknowledge the Wurundjeri people of the Kulin nation who are the Traditional Custodians of this Land. We pay respect to the Elders both past and present and the emerging leader and extend that respect to other Indigenous Australians.
We acknowledge that children are born belonging to a culture and have the right to share and explore their own and others including our Aboriginal heritage free from bias and prejudice.
We acknowledge families are children's first teachers and most important person in their lives. Therefore, when working in respectful partnership with families where open communication is nurtured, we believe will result in better outcomes for children.
At Acacia the learning outcomes are based around the Early Years Learning Frameworks to encourage children and staff's learning. Our practices are ones that reflect Early Childhood Australia's Code of Ethics and U.N rights of the child.
We listen to children's voices and promote their sense of Agency in all aspects of their health and wellbeing and educational needs. We acknowledge that children are active and capable participants in their own learning and that learning occurs in a social context where children can share their ideas, make choices and freely explore their environment in their own pace.
As we live, learn and play on this land, we believe that we need to respect our land. Therefore, our program encourage children to explore our environment so they develop an appreciation of nature, culture and the local and wider community.
We engage in a holistic approach to teaching and learning in a social context where shared sustained thinking occurs. As Educators we are responsive to all children's development and wellbeing, while encouraging them to build and foster a connection to peers, adults, their surroundings, wider community and natural environment. Our educational program is one that is innovative and builds on children's needs and interest in the programs of literacy, social and emotional, Science, Technology, Engineering, Arts and Maths (STEAM) and cultural awareness.
Through the connection of our natural world our programs encourage and promote language, problem solving skill, opportunities for trial and error, sensory discovery and messy play, where we have opportunities for hands on learning and explorations, intellectual curiosity and informed risk taking and the capacity to express and acknowledge feelings.
We believe that children have the right to feel safe and be safe wherever they are, thus, Acacia provides and promotes safe practices. We do this by Promoting resilience, a sense of belonging, self-worth, secure attachments and warm trusting relationships in our everyday interactions, between home, Acacia and the wider community and vice versa.
We acknowledge that children come in with their own set of knowledge and skills and as educator we endeavour to challenge and scaffold children's learning through project and enquiry based program with an emphasis on play based learning.
We recognise Educators come from diverse backgrounds, that bring a wealth of knowledge, skills, experience and qualifications. Through the ongoing process of reflective practices and professional development educators are able to share their knowledge and skills with other to add value to Acacia learning environment.
Acacia is committed to continuous quality improvement and support creating a community of learners with everyone that belongs to our community.
FREE KINDER for 4 year old kindergarten program at Acacia 2021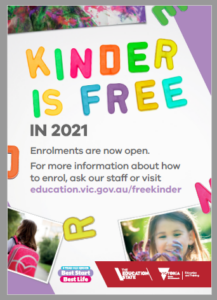 https://www.education.vic.gov.au/childhood/providers/funding/Pages/free-kinder-providers.aspx?utm_source=email+marketing+Mailigen&utm_campaign=Direct+Send+-+Emergency&utm_medium=email#link6
National Rating
Acacia children's centre have been rated as exceeding the National Quality Standard set be ACECQA.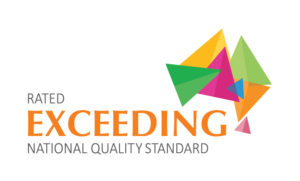 Please check the link below to see more about this rating
20161003 SE40001056 Acacia Children's Centre – St Albans ASR-00015842 ART015
files.acecqa.gov.au_files_Quality area 2 web
Quality area 6 web Quality area 7 web