We at Acacia take all complaints, concerns  and feedback seriously.  We are committed to improving the effectiveness and efficiency of our complaints management process.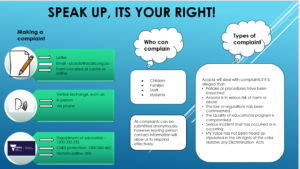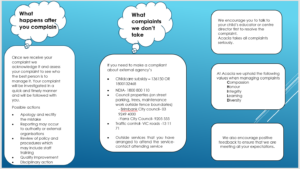 There many ways you can make any complaints, concerns  and feedback. Please choose any of the following ways:
Send an email to the centre' (please see contact us page)
talk to any staff and educators at your child's centre
leave feedback in writing at your centre
Submit a formal complaint form Adult Complain Form – Final June 2020
Children can also submit a complaint form that relates to their centre
For information for children about expressing their concerns please see the following: Children Information on Managing Complaints
submit via the form below, stating  which centre ( Richmond, Fitzroy, St Albans or Head office) your comments refer to in the subject line.